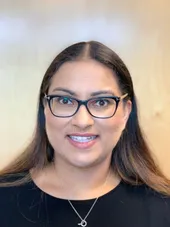 Dr. Anita Chopra D.C., B.A., graduated with her Doctorate of Chiropractic from New York Chiropractic College in Seneca Falls in July 2011. While in New York, she completed her internship at the New York Chiropractic College Levittown Health Centre in Levittown, NY. Prior to obtaining her Doctorate she completed her Bachelors of Arts from the University of Western Ontario in London, ON. Dr. Chopra is licensed to practice in Ontario through the College of Chiropractors of Ontario. In addition to being able to practice in Ontario, she has completed her Board Examinations to practice in the US.
She is happy to be serving the communities in which she grew up in. She is currently accepting new patients at her Brampton office. Dr. Chopra enjoys working with patients of all ages - infants to adults. Dr. Chopra is a Webster Technique and RockTape certified practitioner. In addition, Dr. Anita Chopra uses a variety of techniques in her practice and is a firm believer of patient education.
Dr. Anita Chopra has been a guest speaker at various local businesses in the GTA. These talks have been about "What is Chiropractic Care?", "The Importance of Chiropractic Care", "Balance and Co-Ordination" and various other tailored topics. Dr. Anita Chopra has also been a guest speaker at The Running Room - Kingsway Village, and Mommy Connections Canada - Peel & Oakville. It is at these talks where she provides insight on injury prevention, strengthening and stability, and the importance of chiropractic care - both to athletes and to expecting mothers.
Dr. Anita Chopra is focused on the promotion of health and wellness, and the prevention of illness. Her goal is to optimize your health and wellness and get you to work at your maximum potential. Dr. Anita Chopra is also a volunteer with the Canadian Chiropractic Examining Board.